Bobby Flay knew what he was doing when he concocted this crazy sauce de coeur. Although I didn't do the cheesy bread in the recipe (trying to cut down on carbs :-/), the steak was great! Juicy and flavorful; chewey and meaty for a brotherly pairing with a bold cabernet. I used to not be a huge fan of flank because of how tough it is, but if you either pound it out or just accentuate the natural flavor with a great sear and a sauce, it's an absolutely fantastic budget cut that will be sure to bring some smiles your way. Enjoy!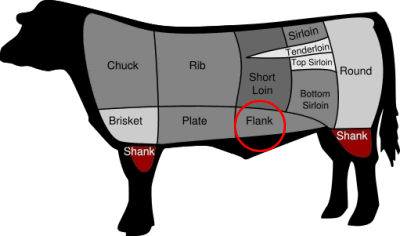 Searing the steak is fairly easy: I seared a 1-lb steak (1/2 what the recipe calls for, so I cut my sauce amount in half) for a few minutes on each side, then basted it until I was happy with a meaty medium (my family enjoys a more thorough cook than would be called for on a tenderloin for tougher cuts). The sauce recipe was a pretty epic adventure, but worth the experience:
3 cups balsamic vinegar
2 tablespoons canola oil
1 medium Spanish onion, coarsely chopped
3 cloves garlic, coarsely chopped
1 cup ketchup
1/3 cup water
2 tablespoons ancho chili powder
1 tablespoon paprika
1 heaping tablespoon Dijon mustard
1 tablespoon red wine vinegar
1 tablespoon Worcestershire sauce
1 canned chipotle chile in adobo, chopped
2 tablespoons dark brown sugar
1 tablespoon honey
1 tablespoon molasses
Pinch salt and freshly ground black pepper, plus more for seasoning
Put the balsamic vinegar in a small saucepan over medium heat. Bring to a simmer and cook until reduced to 1 cup. Set aside.
Heat 2 tablespoons of the oil over medium-high heat in a heavy-bottomed medium saucepan. Add the onions and cook until soft, 3 to 4 minutes. Add the garlic and cook for 1 minute. Add the ketchup and the water and bring to a boil. Reduce the heat and simmer for 5 minutes. Add the reduced vinegar and the remaining ingredients and simmer until thickened, stirring occasionally, for 10 minutes. Puree with an immersion blender until smooth and season with salt and pepper, to taste. Pour into a bowl and allow to cool at room temperature. Sauce will keep for 1 week in the refrigerator stored in a tightly sealed container.